Originally written & posted
______________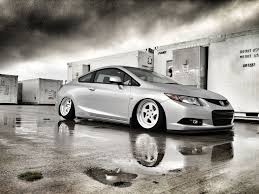 _______________________________________
You got THE ride but it's not totally tricked out and up to your performance style just yet. But your $5,000 Honda Civic is only a new exhaust, some coilovers, rims & tires and a sound system away from becoming a $13,000 Honda Civic.
Without the right types of car insurance coverage, though, you'll get only money enough to replace it with a bone-stock version if you happen to total your tuned ride.
A well-modded car is a work of art. It looks right. It sounds right. It goes right. But an everyday car that's come to life with the application of hundreds of your hours and thousands of your dollars is still just an everyday car to your insurance company.
Here's how to decide whether you need to go the extra mile. Below are answers to some of the most common questions.
Are my car parts covered automatically?
If you have a liability-only policy — the very cheapest, bare-bones policy — you have zero coverage on your vehicle. All you have is some protection from lawsuits if you hit someone.
To have your car repaired or replaced, you have to buy collision and comprehensive insurance. Collision fixes physical damage to your own car when you hit something (or someone who is uninsured hits you). Comprehensive covers theft and damage from flooding, hail, falling objects, vandalism and animal strikes. Both of them will pay the actual cash value of your car if it's totaled. But the actual cash value of your car is the cost to replace it with one similar to what you were insuring.
With some insurance companies, collision and comprehensive coverage will automatically include some small amount for aftermarket parts, typically $1,000. Even so, it's still a good idea to take photos and keep receipts for the improvements you make.
With other policies, no aftermarket parts are covered.
If you've added a lot of aftermarket parts and haven't bought special coverage, you're not covered. If a thief steals your 22s, you're rolling on factory steelies when the insurance check comes in.
If your car is financed, your mods aren't covered by gap insurance.
What kind of coverage do I need for aftermarket parts?
Coverage for custom parts and equipment (CPE) — that's how it's known — isn't particularly expensive, especially if you're under 25 and already paying the highest rates you'll see in your life. Most drivers will pay only a few dollars a month for $5,000 coverage.
But you can't buy CPE by itself; you must also carry collision and comprehensive.
What is agreed-value or stated-value coverage? Why would I use this?
An agreed-value policy means you and your insurance company agree ahead of time exactly what the payout will be if your car is stolen or totaled. Your premium is based on that amount.
If you say your Honda Civic is worth $50,000, you will pay a premium reflecting that, and the insurance company will write you a check without any haggling.
Agreed-value policies are typically used for rare or one-of-a-kind custom cars, where a replacement is difficult or impossible to find. Owners of tuner cars that go much beyond bolt-on parts might consider such coverage.
A stated-value policy means you decide the value of your car. But unlike an agreed-value policy, you're only buying as much coverage as you can afford, rather than insuring the car for its full worth. For example, if you have a classic car valued at $2 million but can only afford to pay for a $1 million worth of coverage, you would get a stated-value policy. These policies also typically have a provision that allows an insurer to pay out actual cash value instead, if that amount is less.
If the insurance company totals my car, who owns the aftermarket parts?
The insurance company usually does.  The basic rule of thumb is that anything that was added to the car as a permanent fixture stays with the car and belongs to the auto insurance company once it totals out your car and pays you for it.
If there are custom parts that you would like to keep, discuss it with your claims adjuster to see if you can keep these specific items. There likely will be a deduction on the actual cash value you were to receive on the vehicle, and you may need to put the stock part back on the car. For example, if you want to keep an aftermarket stereo system, you may in return need to put back in the original stereo equipment.
Will modifying my car make me more risky to an insurance company and affect my rates?
It can; it really depends upon the modifications that you made.
If you are an acceptable risk, the insurer may raise your rates to cover the extra performance of your vehicle.  Or it's likely that your insurer will suggest that you purchase custom parts and equipment coverage for your aftermarket parts to be fully covered.  And some modifications, such as an upgraded security system, could make your car less of a risk and thus reduce your rates.
If you modify your car in certain ways, you can become too much of a risk and instead of getting your rates raised, you'll get your policy canceled.  If you modify the car before asking your insurer about the parts, your policy could be voided.
If you want to add custom parts to your vehicle, especially ones that change the actual performance of your car, we'd recommend that you first check with your car insurance company to make sure these parts are acceptable under the terms of your policy.  Ask if you need to get a custom parts and equipment endorsement to have them covered for an additional fee, or if the parts will affect your rates or policy in any other way.
If someone hits me, will their insurance company pay for my modifications?
Typically, your modifications will be replaced by stock parts if your car is damaged and its repairs are being paid for by the other driver's car insurance company.
If, however, you can prove that you had these custom parts listed on your own auto insurance policy and they were covered either by your policy or through custom parts and equipment coverage, then you usually can get the other driver's insurer to take the parts into consideration. That's because you have established value for them under your own policy.
If your car is totaled, modifications may be taken into consideration if you can show that they were covered by your own auto insurance policy, and/or you may need to provide receipts to show their worth.
It's possible, though, that your custom parts will not increase the value of your car as much as you'd expect. Just because they cost a lot and you enjoyed them on your car doesn't necessarily mean they added any real amount to your car's actual cash value.
Are there modifications that make a car uninsurable?
Yes, there are modifications that will keep a regular car insurance company from insuring your car. You may be able to find coverage with a specialized carrier, but that of course will cost you more money.
Each car insurance company has its own underwriting rules about what equipment is or is not acceptable, and it doesn't  share its list with the general public.   However, we can tell you that many car insurance companies find a vehicle unacceptable (uninsurable) if it has an altered suspension or any modification that mechanically or structurally alters its performance or appearance.
We at Applegate Insurance Agency always advise you to speak to your insurance company before modifying your car, or buying a car that already has been modified, to make sure you can get the insurance you need at a cost you can afford.
My car isn't worth much, but the custom parts are. What should I do?
Check out the cost of physical damage coverage (collision and comprehensive coverages) and see which, if any, of your custom parts will be covered by it.  If your parts need a custom parts and equipment endorsement to be covered, find out the extra cost of that coverage.
Once you know the cost of coverage, you can decide if it is worth paying that premium to have your car and custom parts covered by an auto insurance company. You may find that it makes more sense to just drive your vehicle with liability-only coverage and accept that you'll be out the money if your custom parts are damaged or the car is totaled. Just call us at 865-240-2348 and we'll help you make that determination.