by Kyle Smith //
Buying a first car can be tough for a budding enthusiast, since following their heart can lead them down a path of frustration and financial ruin. In an effort to help, we asked Hagerty Forums users to sound off and tell us what car they would recommend to a budding car enthusiast.
Here are the top five reader recommendations.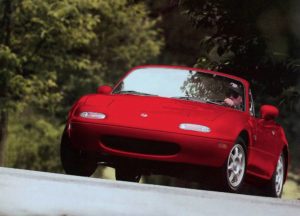 When it comes to owning something affordable, reliable, and fun to drive, the venerable Mazda from the 1990s will almost always enter the conversation. With a peppy four-cylinder under the hood and a soft top that drops easily, the Miata will hook a new enthusiast on the "little sports car" lifestyle—with the exception of those occasional times that require wrenching under the hood.
A new enthusiast will likely learn a lot through their first car, so something that's mechanically simple and well supported is likely best. A first- or second-generation Mustang is a recipe for success in that regard. Just about any reproduction part is available, and between very active online message boards and national clubs, a new owner has a multitude of outlets to ask questions and get the help they need to keep their new prized possession on the road.
Owning a vintage car is expensive, but fortunately, some are more affordable than others. The Volkswagen Beetle enjoyed a massive production run and was a very popular car for decades. While many have been hacked up at some point and need at least a little work or rebuilding, the cute coupes can often be found for a reasonable price. Also, much like the Mustang above, the Beetle enjoys substantial aftermarket support, from restoration to hot rodding.
While some would say you're not getting the full vintage car experience by purchasing a thoroughly modern GM product with fuel injection and ABS, 1993–2002 F-body platform cars are unique, fast, and efficient. Available with a V-8 or V-6, manual or automatic, there's a flavor of Camaro or Firebird for just about any taste. Low-mileage examples can be found, but one of the great selling points for these cars is their durability. Don't be scared of a few miles—or going out and adding more.
1992–97 Ford truck with 300 inline-six
This recommendation from our commenters was oddly specific. Ford trucks of the 1990s enjoy a solid reputation for being durable and simple, and the 300-cubic-inch inline-six engine sits on the list of best Ford truck engines of all time. Available with a manual transmission, to keep the driving experience engaging, these trucks are quite stylish and can do at least a little work. If a new enthusiast can only own one "classic" vehicle, a vintage truck is hard to beat, since you can take part in a car show and also haul your stuff when you move into a new apartment. Win-win.
When you need the Car Insurance for your newly acquired 'gem' then give our Tennessee agent at Applegate Insurance Agency a call for a personal Hagerty quote at 865-240-2348 option 2.